What's New in Timelines 1.1
I am pleased to announce that Timelines update 1.1 is now ready and available on the App Store!
It introduces some of the highly requested additions, including 12 more colors, quick interactions in timeline and iOS 10 support.
But first, I wanted to say this: I really appreciate all the feedback I got from you (users) so far! It's very encouraging, informative and it largely influences what I will prioritize in this early product stage of Timelines.
Without further ado, here are the main additions and enhancements of Timelines 1.1:
12 more colors
This has been the single most requested enhancement, so it made perfect sense to include it in this update. You can simply swipe on the color picker to access those additional colors.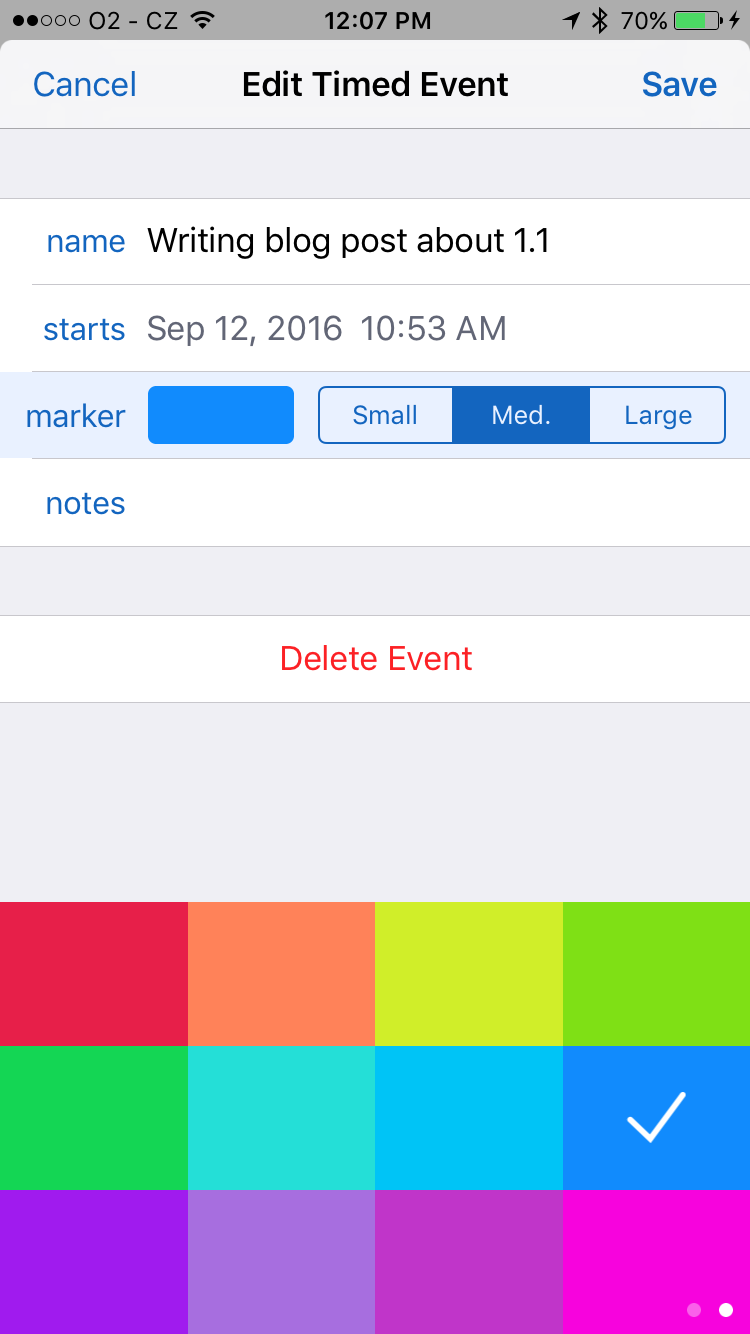 Performance improvements
Scrolling in timeline with a large number of events is now much smoother. And when you zoom far out, events are now collapsed automatically.
iOS 10 compatibility
Apart from the under-the-hood refinements, the most notable change in version 1.1 is the revamped Today widget, which fits nicely into the new style of iOS 10: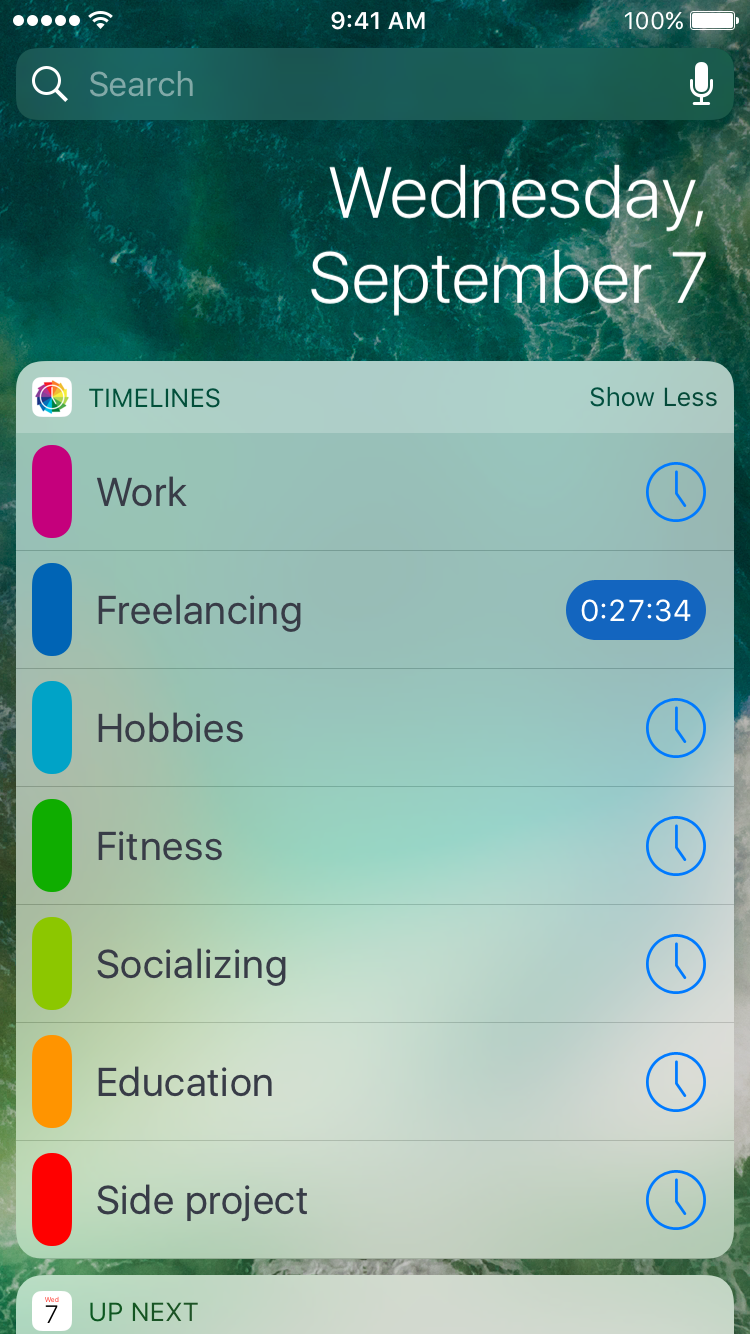 watchOS 3 improvements
watchOS 3 is a major step forward for the whole Apple Watch platform. Apps now run much faster, and those that are used more often are kept in memory at all times, so they launch instantly. If you stopped using apps on the Apple Watch because they were too slow, I highly recommend revisiting them now. It goes without saying that Timelines also runs very fast with this new system.
There is a new complication type in watchOS 3 called "Extra large", used in some of the new watch faces. Timelines 1.1 has a new complication for that type.
With Faces Gallery, you can now access Timelines's complications directly in the Apple Watch app on your iPhone. This makes it easy to see at a glance what the complications look like in different watch faces.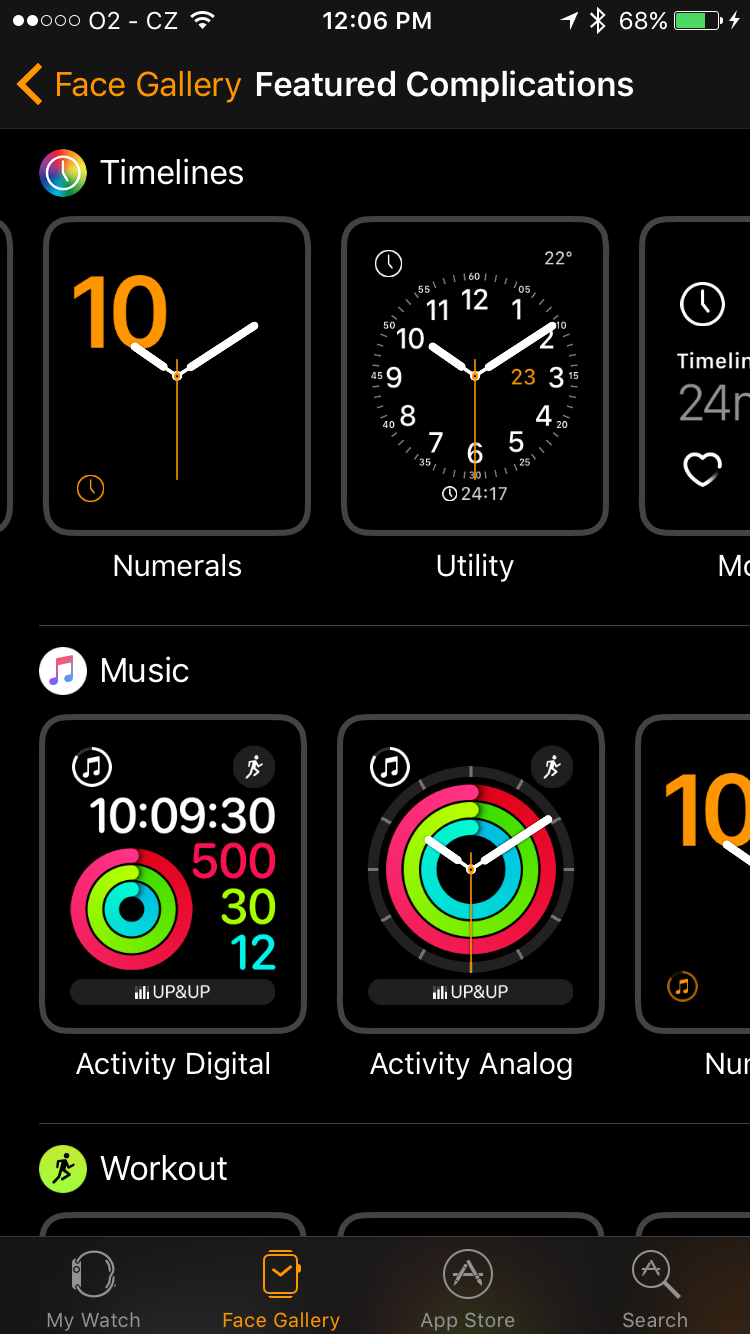 Quick interactions in the timeline
For those of you who check statistics frequently and at various zoom levels, it can be useful to have some shortcuts for zooming. This is especially true when you use Timelines in portrait mode. I've added three options to do just that:
Double tap to zoom in
Two-finger tap to zoom out
Tap and pan to zoom interactively with just one finger
The first two work the same as in maps. The third one – tap & pan – is useful for finer-grained interaction while in portrait mode. Using this method, you can control zoom with just one finger. Here is a short video of how it works:
---
I hope you enjoy this update, and if you do, please consider leaving a review on the App Store. It really helps.
To stay in the loop about what's happening around Timelines, you can sign up to be informed via email here.
Lastly, I wanted to say that I am dedicated to making Timelines better, and there are many exciting features in the works to look forward to. If you have something that you'd like to see added or changed in Timelines, please let me know at lukas@timelinesapp.io. I really do take all feedback into consideration. Thank you!